Previous Collaborative Studies: 
Factors Related to Menstrual Activism: Evaluating the Impact of Messaging (Dr. Jessica Barnack-Tavlaris, Rachel Fikslin, and Rachel Levitt)
This study examined the impact of different types of messages and other variables on menstruation-related activism. Feminist identity, perceived fairness of menstrual taxation, attitudes towards menstrual secrecy, having prior knowledge of menstrual product taxation issues, and positive affect were all significantly associated with menstruation-related activism
Previous Studies:
In Spring '16, this lab created studies regarding the perceived susceptibility to sexually transmitted infections, health disparities awareness and beliefs, and attitudes toward menstruation.
Responses to Cervical Cancer Health Disparities Information (Noelle Skrobola's Senior Honor's Thesis)
Hispanic women are 64% more likely to be diagnosed with cervical cancer than their white counterparts. This thesis project is exploring how different types of cervical cancer health disparity information can influence affective responses, perceived risk of contracting cervical cancer, and behavioral intentions to prevent and test for cervical cancer.
Understanding Implicit Associations Between Sex and Submission (Rachel Fikslin's Senior Honor's Thesis)
The purpose of this research project is to see if women's implicit association between sex and submission is negatively related to condom use and sexual assertiveness.  We are also seeing if benevolent sexism and feminist identity impact this relationship.
Attitudes Towards Individuals Who Carry Condoms (Anna Mitarotondo's PSY 493 Project)
Through a quantitative analysis, we are working to understand what the attitudes are towards individuals who carry condoms, as well as analyze gender differences in this analysis (informed by sexism and the sexual double standard).  We believe that sexism may be a potential moderator, such that people higher in sexism would be more likely to negatively evaluate women who carry condoms.
Attitudes Towards Alternative Menstrual Products (Jessica Milne's PSY 493 Project)
This study sought to measure women's attitudes toward "alternative" reproductive health products (menstrual cup and IUD), and how those attitudes can be affected by the product description. We want to understand how to inform women about alternative products that have health benefits.
Past Events!

Association for Women in Psychology Conference, Spring 2016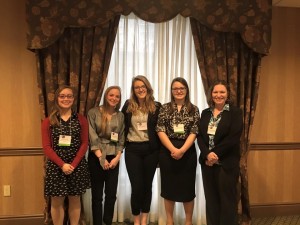 From left to right: Rachel Fikslin, Victoria Michels, Noelle Skrobola, Anna Mitarotondo, Dr. Barnack-Tavlaris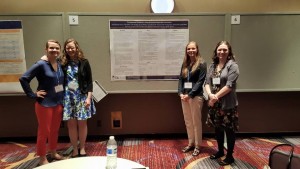 From left to right: Margaret Toich, Portia Womer, Tori Michels, Dr. Barnack-Tavlaris
Spring 2015 Psychology Lab Olympics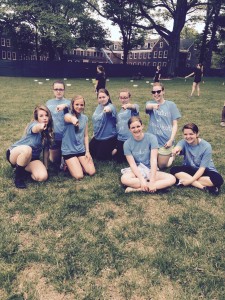 From left to right: Noelle Skrobola, Anna Mitarotondo, Tori Michels, Madeline Dec,  Rachel Fikslin, Rebecca Van Der Horn, Portia Womer, Margaret Toich
EPA Conference, Spring 2013
On March 2nd Members of the Reproductive and Sexual Health Lab attended the annual 2013 EPA Conference in New York City. Members presented a poster on  Women's Pap Smear Knowledge and Perceived Susceptibility to Cervical Cancer and HPV.